Today's News: March 22, 2017
todays-news:—Police say five people, including the alleged assailant, were killed in a terrorist attack in London. Forty others were injured. More here
—At Wednesday's hearing, Democratic senators adopted a new strategy to press Supreme Court nominee Neil Gorsuch on abortion and campaign finance. More here
—House Intelligence Chairman Devin Nunes turned quite a few heads on Capitol Hill when he announced he's learned that the Intelligence Community "incidentally collected information about U.S. citizens involved in the Trump transition." More here
—We're tracking the news stories of the day below. All updates are in Eastern Standard Time (GMT -5).
House Intel Chair Says Trump Team Was Monitored
Today's News:House Intelligence Chairman Devin Nunes turned quite a few heads on Capitol Hill Wednesday when he announced he's learned that the Intelligence Community "incidentally collected information about U.S. citizens involved in the Trump transition." He said he received this information through an unnamed source. The vague statement from the congressman and Trump ally did note that the intelligence was gathered legally and that there was no evidence of wiretapping at Trump Tower. But the news does throw a lifeline to President Trump after weeks of alleging his predecessor "wiretapped" him. As my colleague David A. Graham writes:
Nunes's vague statements raised a host of questions, and his decision to announce them publicly and then go to the White House to brief President Trump, having not informed Democrats on the committee about his new findings, cast a pall of politics over the proceedings.
Today's News:Trump said felt "somewhat vindicated" by the announcement, as former intelligence officials and Democrats on the Hill said the statement from Nunes was inappropriate.
Possible U.S. Airstrike Kills 33 Civilians in Syria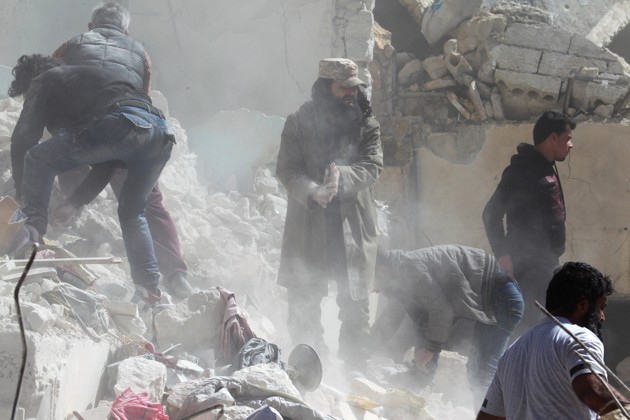 Today's News:A possible U.S. airstrike killed 33 civilians in Syria, a monitoring group said Wednesday. The Syrian Observatory for Human Rights, a London-based network trusted by many news organizations, said the U.S.-led coalition airstrike hit a school in northern Syria in a region controlled by ISIS. The school, located in the town of Mansoura, some 15 miles southwest of Raqqa, was being used as a shelter for displaced families from Raqqa, Aleppo, and Homs. Only two people survived the airstrike. U.S. officials have not confirmed whether the airstrike took place. U.S. military personnel were in the area that day airlifting around 500 U.S.-trained Syrian fighters. Fighting remains intense the northern city of Raqqa, the last ISIS stronghold and self-declared capital.
Provided by:https://www.theatlantic.com